Shepton Mallet Prison – Educational Article July 2022
Another successful month of many, many school visits. We welcomed, Primary Schools, Secondary Schools, Sixth Forms groups and a couple of Scout Groups, totalling a massive 561 students visiting us behind bars at Shepton Mallet Prison.
This month was made more challenging due to the heat, which resulted in us ditching the bright orange jumpsuits for the Prisoner Experience. The prison wings were the best place to be in the hot weather and offered the students some cool relief from the heavy humid air. Officer Maurice did a full induction processing the 'prisoners' onto the chilled wings with several students confessing acts of high treason such as stealing the crown jewels, planning the gunpowder plot, and even kidnapping the Queen! – They were lucky to be allowed out of prison at the end of the day.
All our Year 5 and 6 visitors bravely crawled through the hole in the wall into the 1600s cell despite some initial reservations. As always, the Primary School students were delighted to learn that Paddington 2 had been filmed at the prison. One student spoke up in question, "Where is Paddington Bear now?" "Can we meet him?" Officer Maurice reassured the students by explaining that Paddington was no longer at Shepton Mallet Prison because he had been a very well-mannered bear during his stay and therefore, released on good behaviour.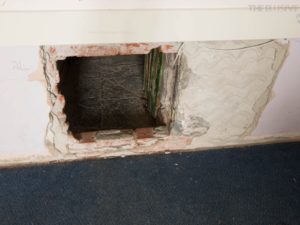 Secondary School students were, much like Paddington, on their best behaviour. Even though they were excited to be on a day trip and the end of term date was looming, they remained polite, engaged and most of all enjoyed their visits.
Downend School from Bristol were all shocked at the size of the cells and lack of sanitation in previous years, whilst St Gregory's School of Bath had many queries about mental health behind bars and the care such prisoners receive. They expressed concern about the number of hours a prisoner may spend locked up in a cell and Prison Officers having to manage those incarcerated that have committed crimes on the worst offending scale.
Heathfield Community School surprised us during a tour of the execution shed when talking about the hanging of prisoners in the past. The students, unprompted, began a debate about the pros and cons of the death penalty. It's safe to say the tour really got them thinking.
A student from Queens College, Taunton was particularly interested in true crime stories but was a little worried that Officer Jenny might think she was 'weird.' Jenny quickly combatted this worry by joking about the fact that she actually works in an old prison, and nothing can be 'weirder' than that!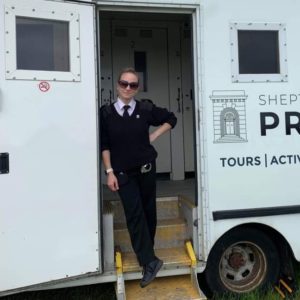 The most insightful questions from these groups were:
· How does an officer leave certain situations at work and not take any harrowing incidents home with them? What support do they get?
· What sort of fights were there between prisoners?
· What hard labour did you get if you'd had a limb amputated?
· How would you exit the old Victorian Infirmary if you were too fat to get down the narrow stone staircase?
· Do prisoners wear their own clothing?
· Did you ever get in a fight with Reggie Kray? – asked of Officer Maurice
We have since received some commendatory feedback this month and here is an outstanding one we'll close with:
'Myself and the staff/students had such an awesome time thank you!

We took over 60 Psychology students to Shepton Mallet Prison. Students took part in a tour of the prison, and 2 activities appropriately titled 'Cell Escape' and 'The Prisoner Experience.' This experience will be invaluable, as students will be looking at Criminal Psychology topic in Year 11.

Their highly qualified guides raised students' curiosity to know more about the past and to think critically about the punishment from the Victorian era to the modern-day.

Both guides commented on how lovely and attentive our students were! Thank again and would definitely go again! – Wayne Davies, Head of Psychology, Heathfield Community School