Art Behind Bars – "OUTSIDE IN"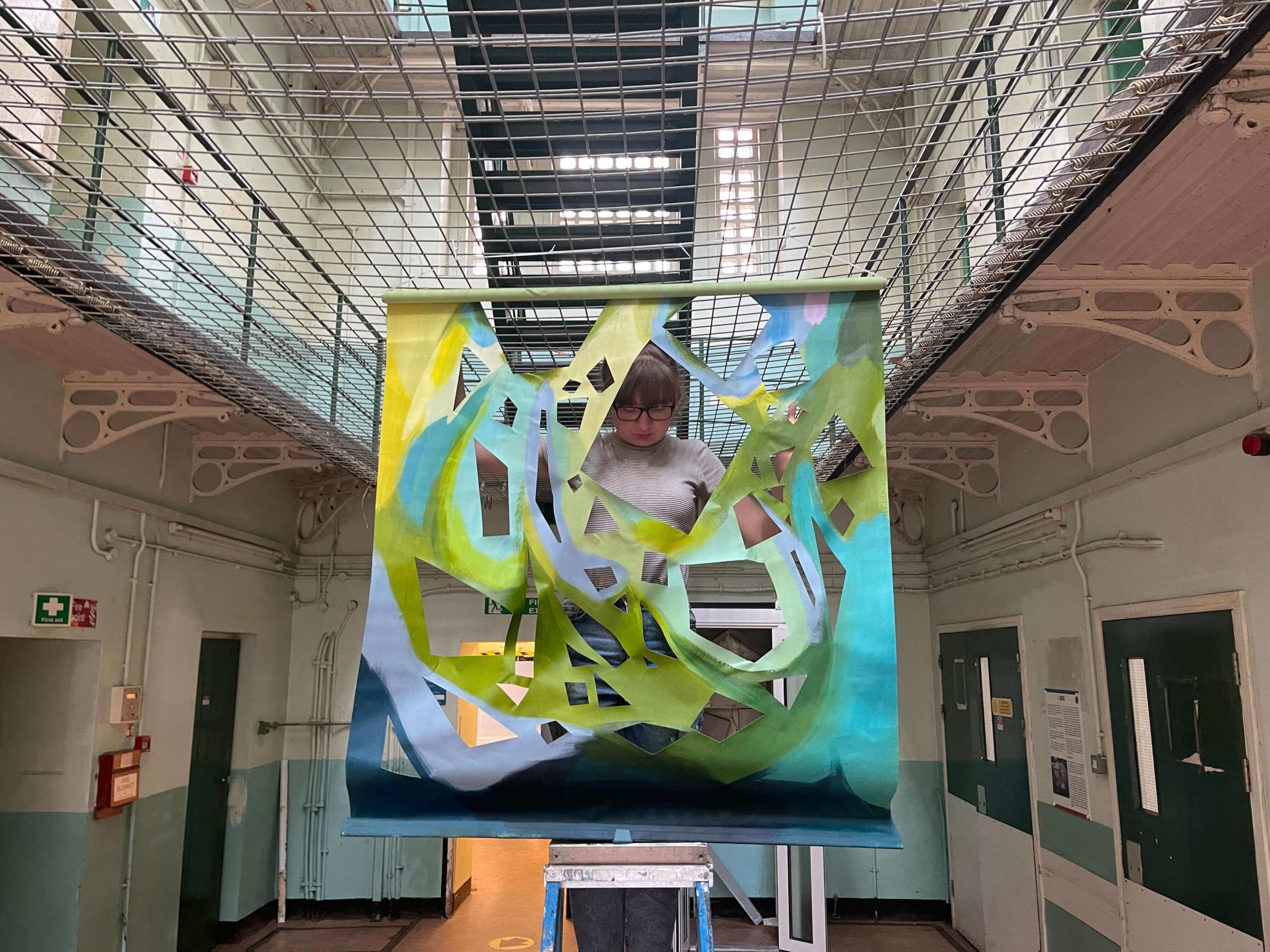 Shepton Mallet Prison hosted another new and exciting exhibition as part of the Somerset Art Weeks (SAW) Festival 2022, running from Saturday 1st until Sunday 9th October,
Six artists took over C-Wing for the full nine days, to create and exhibit site responsive, immersive artworks. Working with colour, form, light and sound the artists brought to life and celebrated the past and present stories of this unique 400-year-old building.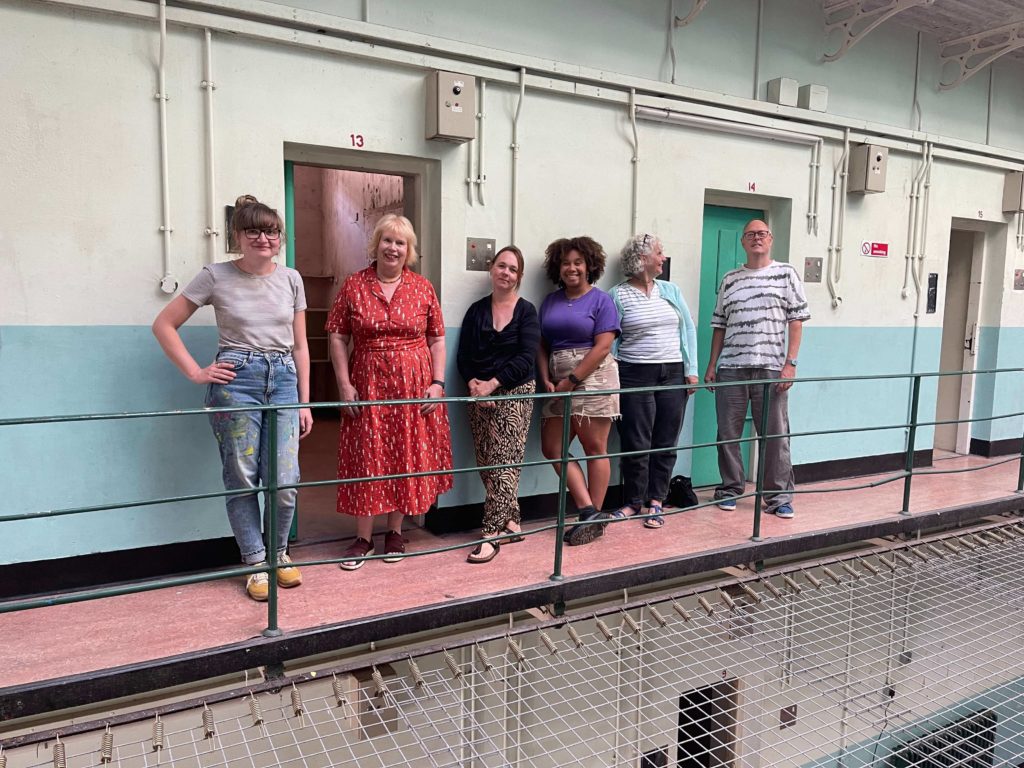 Luminara Florescu, who co-curated two prior exhibitions in the prison (one located in B-Wing in 2019 & another called Prison Residencies in 2021) returned to Shepton Mallet Prison once again, creating installations considering themes of wellbeing while testing and transcending perceived boundaries of art. 
Louise Hall is a multidisciplinary artist whose practice explores conversations on postcolonial ideas of the Black British experience in the UK. Jessica Mallock uses painting and mark making as a practice of mindfulness. Georgina Towler creates installations that fragment the visual pane to deconstruct the way light and colour constructs space and creates form. Tina Salvidge's installations and digital works explore the extraordinary within the ordinary. Dave Webb creates installations exploring life and the human mind through creative coding and digital art. 
Since the exhibition ended last month, we have been looking back on the highlights of that week.  
Over the course of the nine days, over 1000 people visited the exhibition; some came solely for the exhibition or the workshops as part of SAW, whereas others who visited primarily for our tours or activities, were also able to experience the exhibition completely free of charge. Even students from some of our educational groups who had visited during the week, returned to C-Wing during their free time to explore the art further.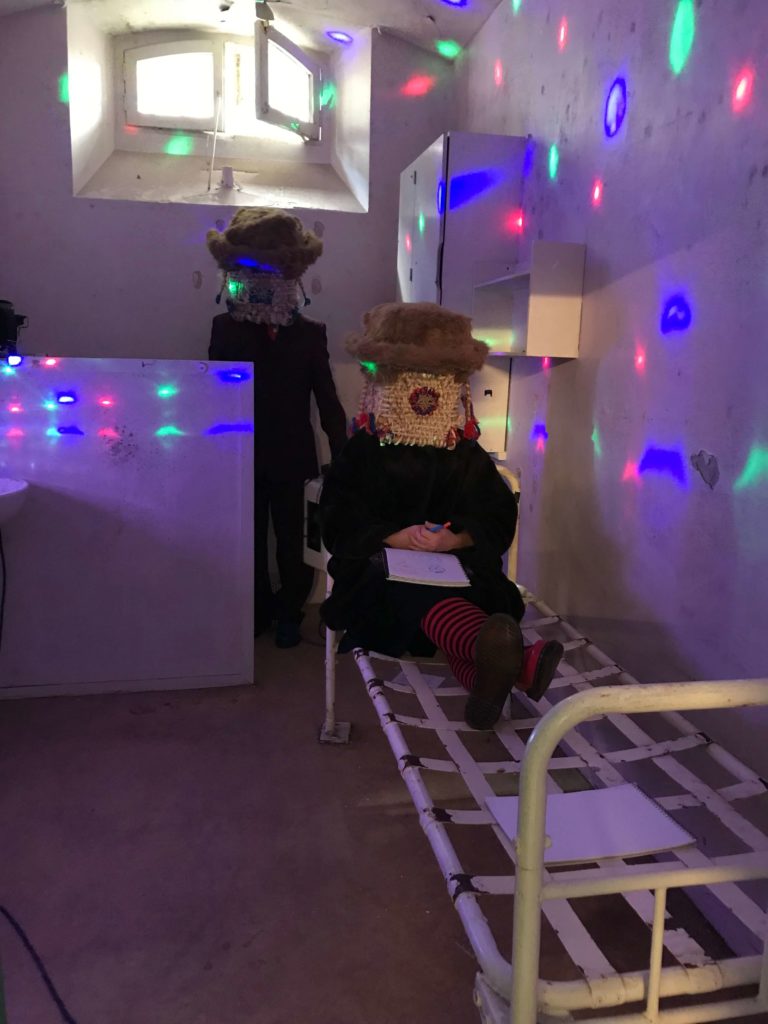 One of the highlights of the exhibition was a visit from Mr Bill and Betty Blockhead , where they transformed cell 4 into Bubbles (Lemon) Club.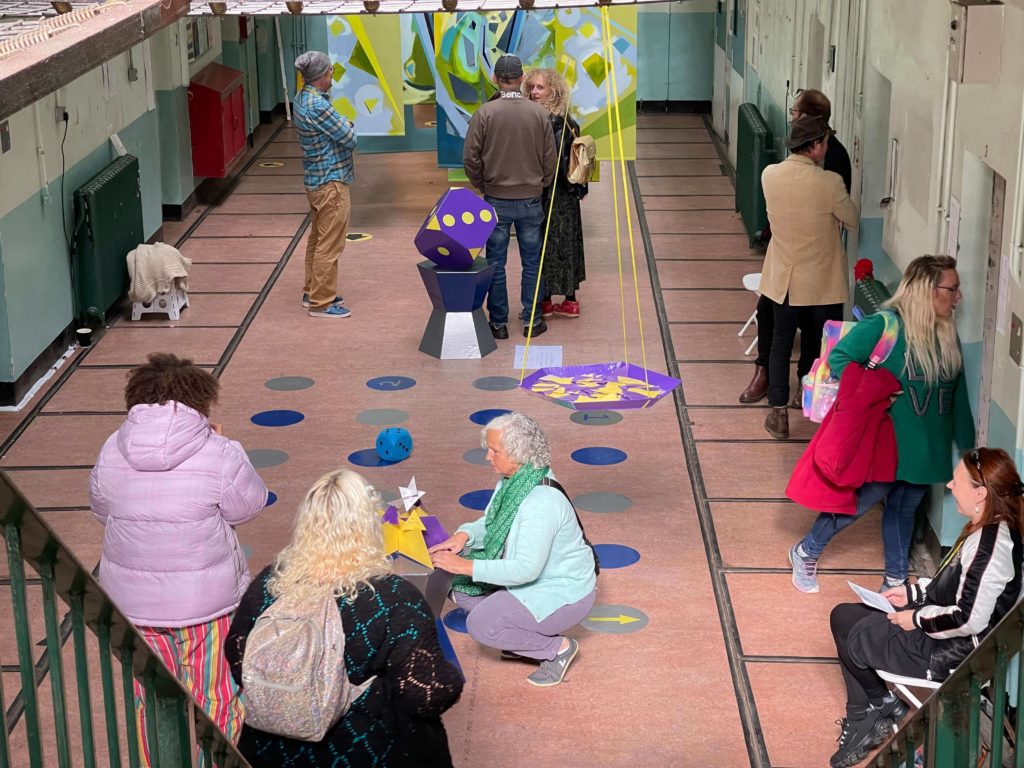 Whilst different artists occupied the various cells on the wing, on the centre of the wing was a giant board game created by Luminara, encouraging participants to "awaken their inner child and find the Sanctuary within themselves through play and creative imagination and of course laughter."  
A Visitors' Comments book attracted many entries, and feedback was also expressed on social media. 
"Fabulous, creative and inspiring workshops – what a joy!" 
"Really interesting installations in such a unique location – really enjoyed it!" 
"Wonderful, worth travelling 66 miles – best day ever!" 
"Brilliant! So interesting and thought provoking." 
"Makes looking at artwork more interesting." 
"Released my inner children rolling the dice." 
"Really enjoyed the game, very creative." 
"Lovely energy from the artists and their work. And such an inspiring curator!" 
"Awesome. Hope to see some more (or take part) in the future." 
"Amazing! Just stunning work – really enjoyed bringing the family." 
"Such a wonderful range of fascinating artwork!" 
"I liked the floor board game by Luminara Florescu. It was really good how we all got to play together when I'm usually told not to touch art but we got to be involved and then added our kind words to the sculpture. Which meant we were part of the art. That was cool.  It was nice to meet other people through playing the game"
George aged 9  
"I liked breathing room by Georgia Towler, it was a piece I understood and could relate to. I think if I had been in prison I would miss the connection with the sky and ground. The green colours felt like they were brighter in places as the light hit them"
Emma aged 9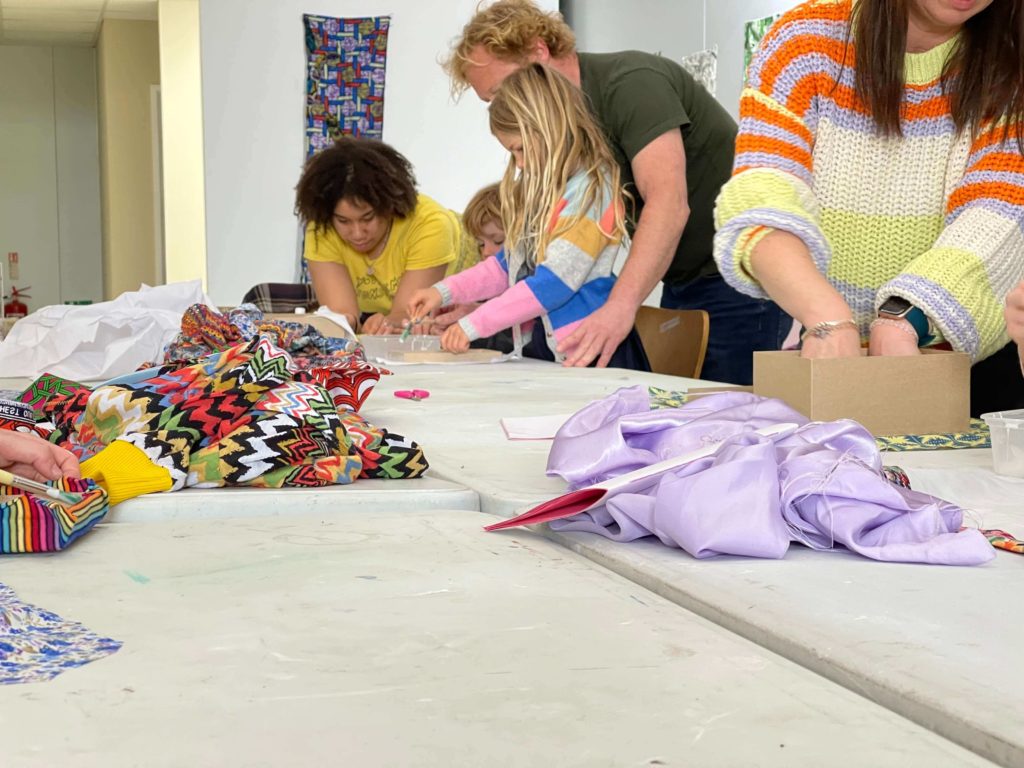 If you didn't get the chance to visit the exhibition in October, you can catch up on more of their amazing work on each of the artists' Instagram accounts: 
Shepton Mallet Prison welcomes artists and exhibitors looking for a unique space. We would love to hear your creative ideas for an immersive and imaginative Art Behind Bars event! Find out more here.